Energy-Saving Ideas
Acorn Deck House Company homes are inherently energy-efficient to take advantage of passive solar heating and cooling. However, some simple replacements and updates to your older home can further improve energy-efficiency, and offer you great energy-saving benefits as well!
Replacing Weather Strip
The easiest, yet one of the most effective ways to save energy during the summer and winter is by replacing your weather strip. Weather strip is a barrier that fits into a groove on the edge of our mahogany windows, doors and sliders to help insulate the edges of operable units. Older types of weather strip (the ones original to your Deck House) may have worked well initially, but could not withstand the test of time. Today, they are most likely dry, shriveled and ineffective. Our new replacement weather strip is made from a thick and sturdy foam, which will effectively prevent unwanted airflow between the indoors and outdoors, saving you energy.
Roof Insulation
Your home's roof insulation can greatly influence your energy savings. Roof insulation codes are changing constantly and vary greatly by location, so what was standard 50 years ago is completely different today. If you are planning to reroof your home, consider adding insulation as well. This can be a costly undertaking, but could be worthwhile depending on your energy savings. As always, please be sure to consult our Parts & Service Department at 800.727.3325 before beginning your project. Read more about roof insulation here.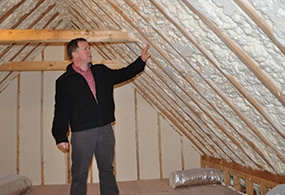 Replacement Windows & Sliders
Do you love your home, but not the drafty metal windows, sliders and glass that came with it? Our replacements may be the answer to your problem. Unlike the glass you may currently find in your home, the glass that we use is argon-filled, Solarban 60 with a low-e coating. Our mahogany replacement units are made to fit inside your existing openings, ensuring you will not lose any visible glass. Countless owners that replaced their windows and sliders say that their only regret is that they didn't do it sooner!